Photo by Coady Photography.
by Ted Black, courtesy of TheRacingBiz.com
A year ago, owner David Raim, trainer Jeff Runco, and jockey Arnaldo Bocachica made West Virginia Breeders' Classics history through the sheer volume of their assault: Raim won five races, Runco took seven, and Boca scored in eight.
Saturday they made a different kind of history.
When Penguin Power captured the Dash For Cash as the 3-5 favorite for that trio, he became just the second horse to win four WVBC events. Prior, only Confucius Say, among the initial six inductees for the inaugural West Virginia-bred Hall of Fame class, had ever prevailed four times in WVBC events.
Penguin Power had won the three previous editions of the Onion Juice at seven furlongs, but Saturday night he tackled the one-turn, 4 ½-furlong Dash for Cash and outlasted Nico and defending champion Hypothesis.
"When I saw the post position draw the other day and saw Golden Key had the rail, then I was pretty confident my horse could win this race," said Runco, who won seven of the nine events last year. "I knew Golden Key was the speed, so I figured if Penguin Power broke well, then he could sit just off of him. It's amazing that he's won four straight Breeders' Classics races. He's won at 4 1/2, 6 1/2, seven and one-mile and one-eighth here. He's truly had an amazing career."
the two-turn division earlier this year, Penguin Power has won three of five outings. He's won two one-turn stakes this year and entered tonight's contest off a score in the Last Enchantment Sept. 17.
He now boasts 17 victories and more than $491,000 banked from 30 career outings. He had won the $40,000 Last Enchantment in his previous start as the tepid 7-5 favorite by getting the 4 1/2-furlongs in 51.11. In each of the three previous years he had won the Onion Juice going two turns.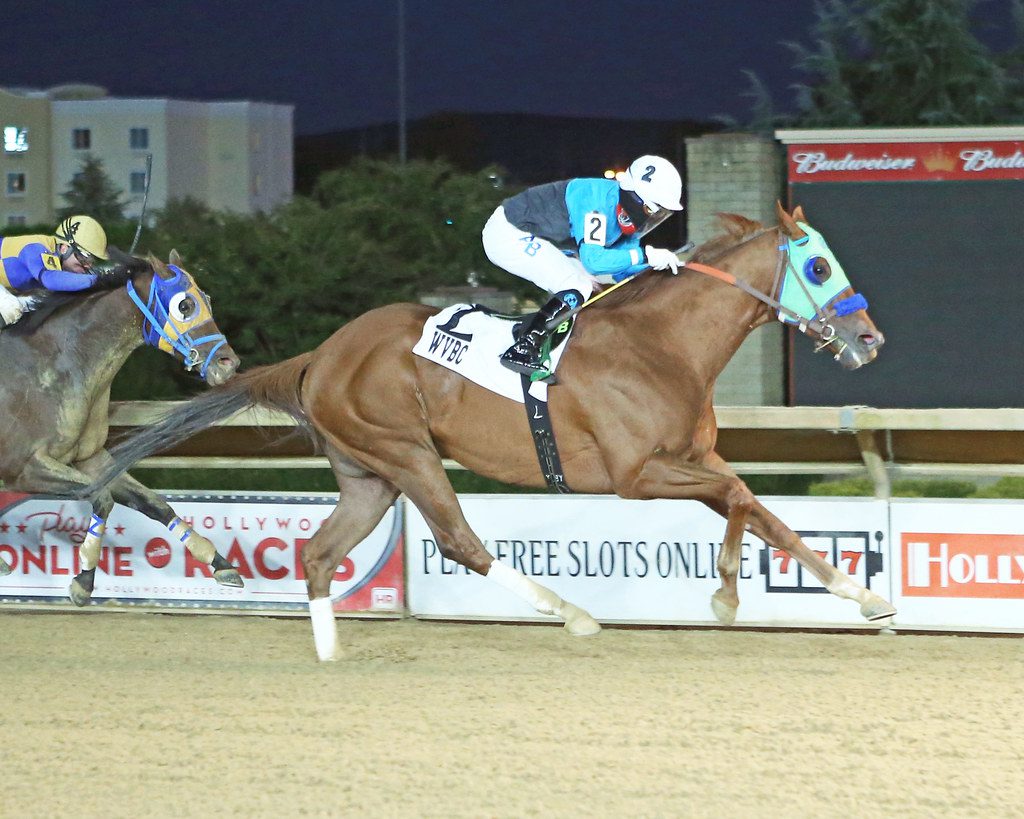 "The key with this horse is just having him relax early," said Bocachica, who won eight of the nine races on last year's card. "Once he broke and was able to sit off the inside horse, I knew we were going to be okay. Turning for home [Nico] came up inside us and [Hypothesis] moved outside of me, but I still had a lot of horse. When I asked him that last sixteenth he really responded."
"He's just an amazing horse," owner David Raim said. "But Jeff really deserves all the credit. When he saw the post position draw, he told me he was going to be fine. He knew Golden Key was the speed and he just wanted to be outside of him and sit off of him on the turn. He's never won the Classic here, but he's won four straight years on Breeders Classics night and without being beat. It's just a thrill to own a horse like him."
Golden Key was, in fact, the speed, opening a two-length lead through an opener in 21.57 seconds, with Penguin Power nicely settled and perfectly positioned in second.
Nico rallied along the rail to gain the place spot for trainer Javier Contreras and owner-breeder O'Sullivan Farms, while defending champion Hypothesis settled for the show spot after a three-wide bid on the far turn for trainer Crystal Pickett.
Running time for the distance on a fast main track was 51.28 seconds. Penguin Power paid $3.20 to win as the 3-5 favorite, and the exacta returned just $4.60 on a one-dollar wager.